About Us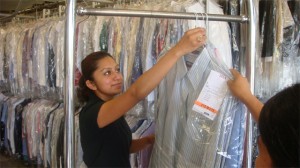 Lots of new customers come to our stores and ask, "How can your price be so low when all the other cleaners charge so much?" The first answer is it's not that we are so low, but that everyone else is so high. Customers have been paying too much to clean their clothes for too long. We have developed a system to efficiently handle your garments without sacrificing the quality the customer should expect. In fact, our stores are set up with the latest state-of-the-art equipment, we use only the best solvents and cleaning supplies available, and our staff is well trained and professional.
You may visit other establishments that advertise a low price only to find out when you pick up your order that they added "extra" charges to any item they could. Or you may discover that the low price is only good on Wednesday mornings when it's raining, or for blue shirts that don't require cuff-links, or if it's your birthday, or if the Cubs win the pennant.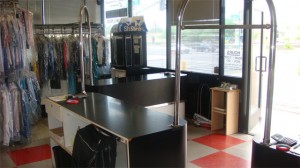 We offer one great low price. There is no fine print. There is nothing special required by you to get the everyday low price we offer. We will clean any garment, any business day regardless of the weather or whose birthday it is, and we'll do it for ONE GREAT LOW PRICE!
Furthermore, Regal Discount Cleaners has always made environmental safety a top priority. Though never proven to be a health hazard, we are aware of the concerns people have about the dry cleaning industry, and have been successful operating stores that pose no threat to property, our employees, or our customers.
Equipment
First, we set up our stores with only the safest dry cleaning equipment available. We use the latest, state-of-the-art machines manufactured by Union, the industry leader. Their advanced computerized technology eliminates virtually all emissions to the atmosphere. The Union machines boast a "closed" system in which all vapors and liquids are kept within the machine and recycled.

Waste Removal
Another concern many have regarding dry cleaning is the storage and handling of waste generated by our process. Our waste is handled safely according to EPA and OSHA standards and is stored in sealed containers. These containers are then removed by Safety Kleen, a national company that specializes in the removal and transport of waste materials. They are the national leader in waste removal and provide manifests and documentation for every step of the process.

Safety Standards
We take environmental concerns very seriously. Our equipment, systems, and procedures surpass all existing and foreseeable regulations and can be modified should industry environmental safety standards change.
With Regal Discount Cleaners, you can rest assured that your garments are in the best hands!